Grief Service & Support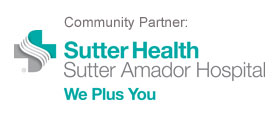 Hospice of Amador & Calaveras offers grief support and services for both patients and their families, as well as the community at large, regardless of whether a person has a family member on hospice services. Our programs and resources are designed to help people cope with the death and dying process through a variety of channels, from one-on-one support to children and adults, to group classes for adults, and reading material. We also make referrals to appropriate websites, community agencies and local organizations, as needed.
If you or someone you know is are having suicidal thoughts, please call one of the numbers below:
National Suicide Prevention Hotline: 800-273-8255
Amador County Behavioral Health 24 Hour Crisis Line: 209- 223-6412
For Hospice Patients' Families:

Following the death of a loved one, Hospice of Amador & Calaveras offers a 12-week grief support program to the bereaved, to help them through the process of grieving and emotional healing. This program includes individual counseling, family meetings, support groups, home visits, cards and literature packets, and telephone contacts. Trained volunteers and grief counselors facilitate our services – provided for adults, adolescents and children.
To learn more about any of our Grief Support services please call George Stathos, Chaplain: 209-223-5500.
For Everyone in the Community:
Hospice Bereavement Support Groups
Bereavement services are available to everyone in the community, and there is no fee. Please note schedule/locations below.
Amador County
First Thursday of every month 11:30 a.m. – 1:00 p.m.
Every Tuesday, 10 – 11:30 a.m.
All meetings are held in the Hospice Conference Room, 1500 So. Hwy. 49, Suite 103 Jackson.
Calaveras County
Second Wednesday of every month 10 – 11:30 a.m.
Angels Camp Thrift Store (book room) 570 Main St. Angels Camp.
Griefbusters
The Griefbusters program is comprised of specially vetted volunteers individually trained to work with school aged children ages 5-19 who are grieving the death of a loved one. To learn more about this unique program, please click here.
Other Resources:
The links below provide information variety of topics, from processing grief, to inspirational stories, exercises and books that address the very complex topic of grieving. Feel free to print, or bookmark this page to access at any time.
Processing Grief:
My Old Friend Grief
A Guide to Grief
Remember What Grief Is
Appropriate Expectations You Can Have for Yourself
The Physical Side of Grief
What We Need During Grief
Children & Grief
When Does Grief End???
Landmines in Grief
Those Hard to Handle Thoughts & Feelings
Inspirational Poems and Exercises:
Be Comforted
Promise To…
Borrowed Hope
Memories
Don't Tell Me
Rebirth
Grief is Like a River