Who We Are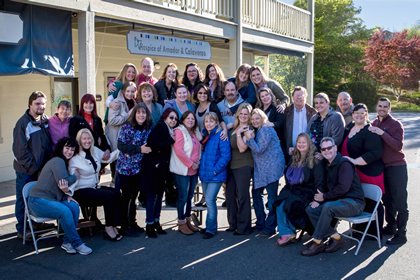 Hospice of Amador & Calaveras is an independent, non-profit healthcare provider of end-of- life care,
and spiritual and psychological support to patients facing a terminal illness. Our grief support services
are available as a free resource to the entire community, including children.
Our interdisciplinary team includes doctors, registered nurses, licensed vocational nurses, medical social
workers, spiritual care providers, hospice aides, and volunteers.
Hospice of Amador & Calaveras is licensed by the State of California Department of Health Services and
Medicare/MediCal certified. We receive financial support from Medicare, HMOs, MediCal and private
insurance providers. However, as an independent non-profit, we rely on the support of community
donors to eliminate the shortfalls that are not covered by insurance. In over 35 years, we have never
turned away a patient for the inability to pay.
We proudly serve Amador and Calaveras Counties.
Mission
The mission of Hospice of Amador & Calaveras is to provide exceptional end-of- life care to everyone in
our community who needs it regardless of their ability to pay, and to educate and collaborate with
health care providers and community members at large in promoting exceptional end-of- life care.
Vision
As a highly-skilled and compassionate team, our vision is to sustain and continually improve our ability
to provide extraordinary care in our community both today and into the future, so that members of our
community select Hospice of Amador & Calaveras as their preeminent choice for hospice care.
Values:
Active Listening
Compassion and Empathy
Quality and Excellence
Honesty and Trust
Appreciation
Professionalism and Accountability
Executive Director
Ariane Debien,
Email: Ariane.debien@hospiceofamador.org
Director of Patient Care Services
LaDonna Seeley, R.N.
Medical Director
Donald Van Fossan, M.D.
Hospice of Amador & Calaveras Esteemed Board of Directors
Danelle Dix, Board President
Ann Platt, Vice President
Dan Fields, M.D., Secretary
Lori Halvorson
Julie Kay Eckardt-Cantrall
Chris Roberts
Neil Starr
Rod Burton, III